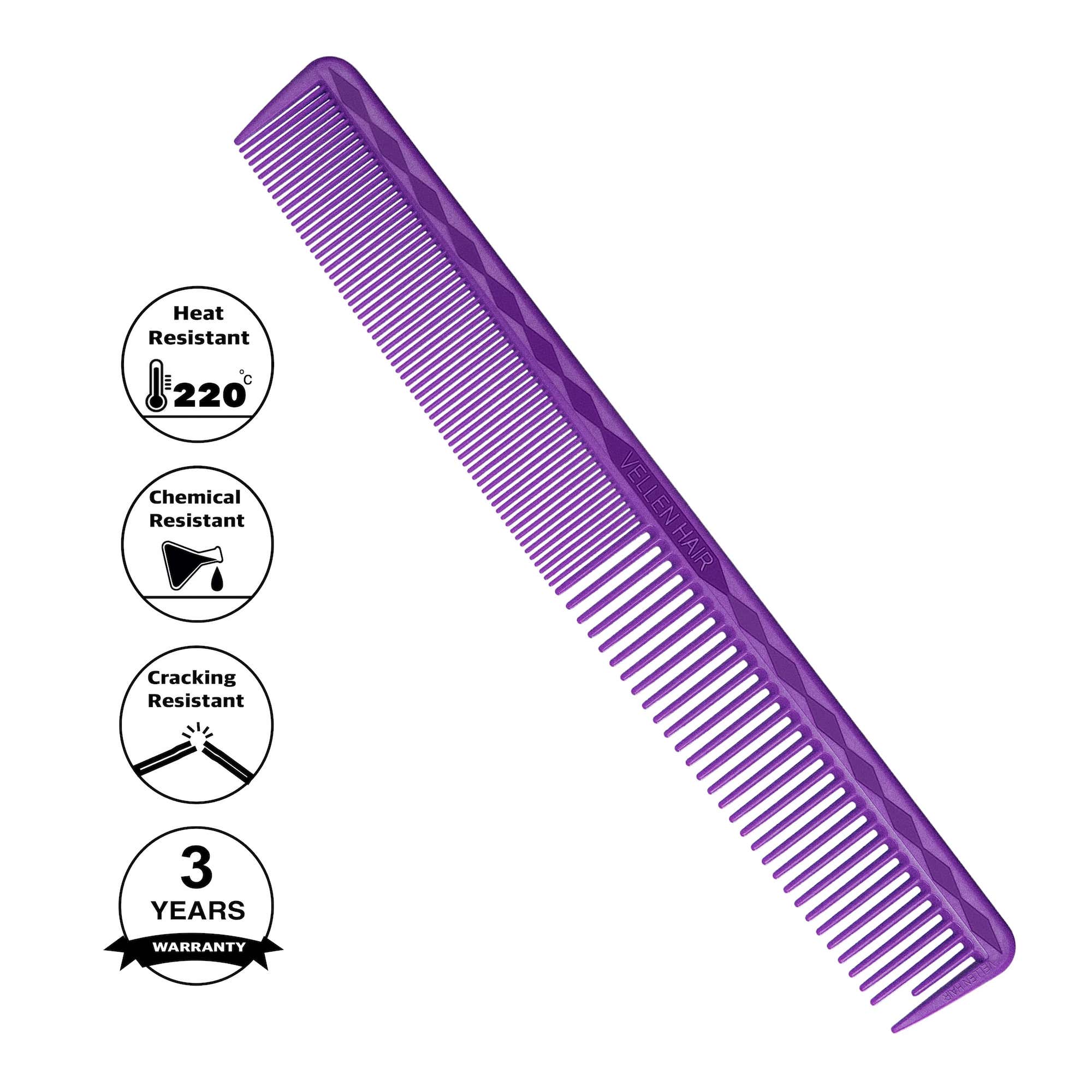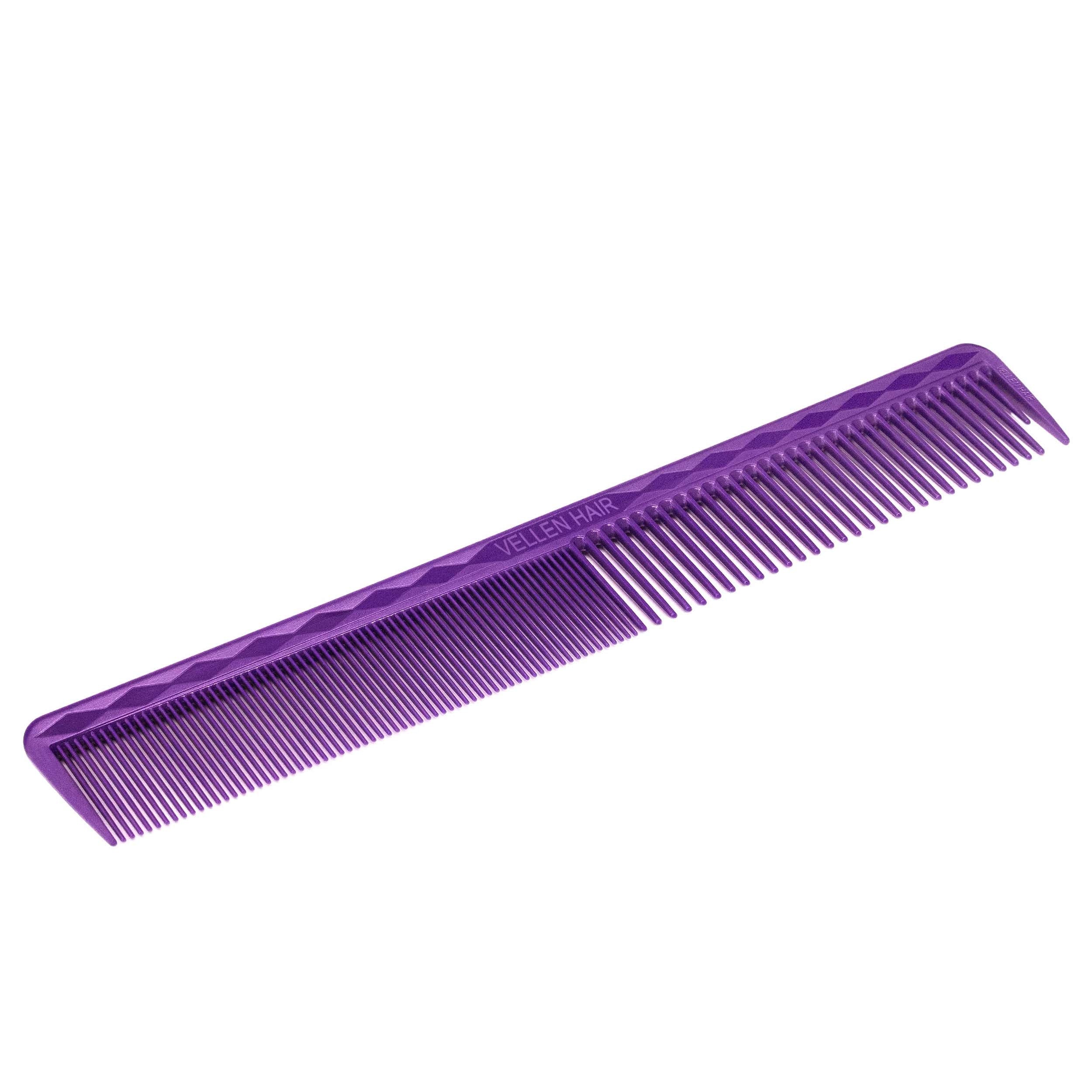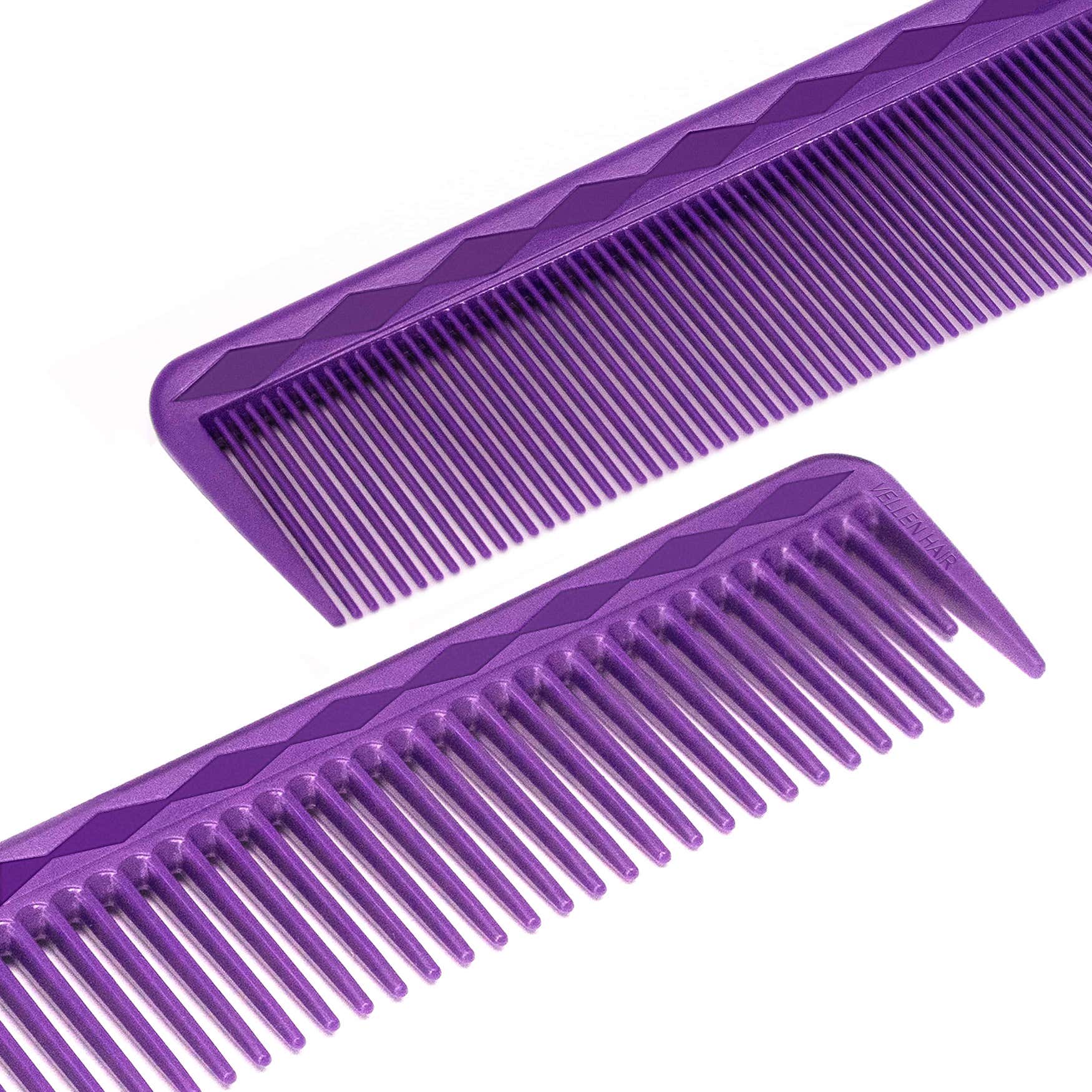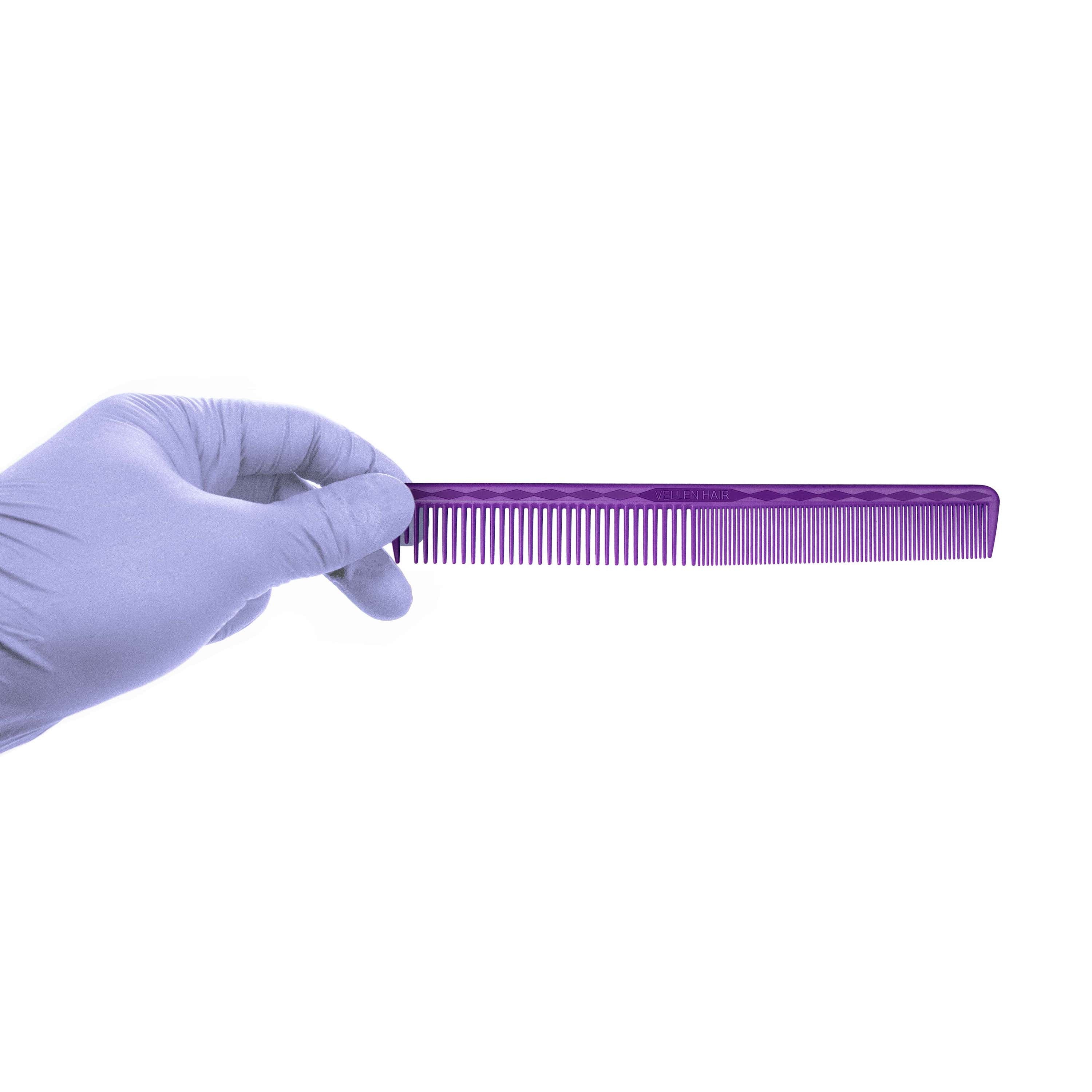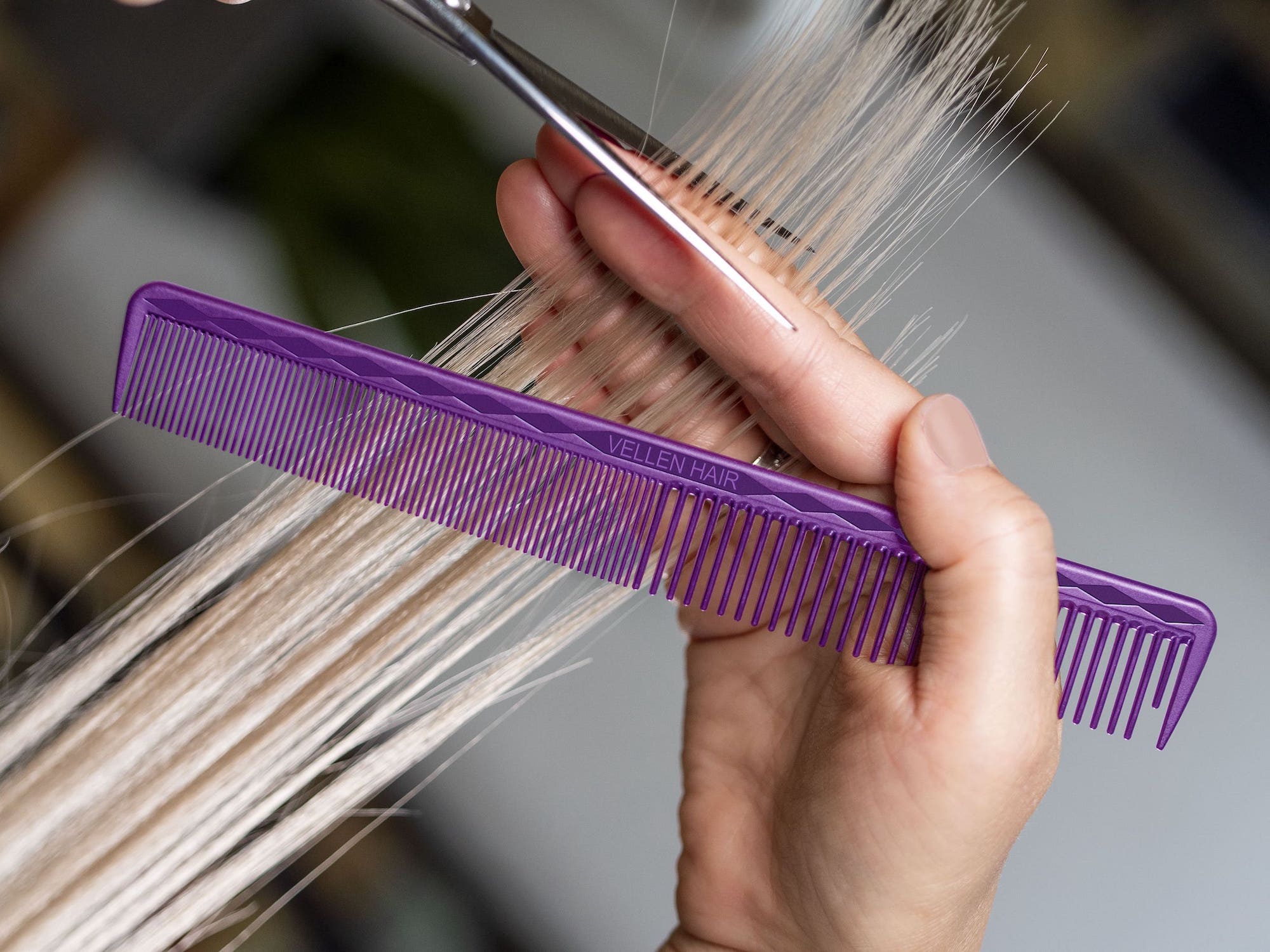 Vellen Hair® Ultimate Cutting Comb - VH202 - 17.8 cm / 7 inch - Purple
Searching for the best cutting comb for hairstylists?
 Our VELLEN HAIR ULTIMATE Cutting Combs are developed with hairdresser's needs in mind and represent the gold standard in quality, design, and durability. Uniquely formulated with high-grade ULTEM PEI superplastic, our custom range of cutting combs offer superior heat and chemical resistance (220°C / 428°F ), strength, and sustainability. This makes them the ideal cutting comb for trimming short-to-normal-length hair and a must-have for your salon.
ULTEM Plastic - A Cut Above The Rest
 Unlike most cutting combs, VELLEN HAIR ULTIMATE Cutting Combs are made with high-strength ULTEM plastic, which is the same plastic used in aircraft. Not only is ULTEM plastic more flexible than carbon but it also offers exceptional thermal resistance, high strength and stiffness, and broad chemical resistance. It's also static-free, which ensures that it doesn't tangle hair.
 Compare this to the cheap plastic used in most cutting combs and the differences are striking. For starters, cheap plastic causes an abundance of static in hair. Static and frizz make the hair strand dry out and become brittle and lifeless. It also increases snagging and pulling, and leads to imperfections that increase split ends. Ultimately, cheap plastic combs destroy hair, causing it to break easily and become knotted and damaged.
Vellen Hair Ultimate Cutting Comb features: 
Made from ULTEM plastic, which is heat resistant to 220°C, chemical resistant, anti-static, lightweight, flexible, and durable.
Outstanding strength and stiffness, and resistance to environmental stress and cracking. Our cutting comb is virtually unbreakable!
Finely spaced and standard-spaced teeth design; the shortened tooth on the edge of the comb is perfect for sectioning hair quickly and creating partings.
Rounded teeth offer smooth combing with balanced tension.
Suitable for hair cutting, hair dying, and other use on all types of short-to-normal-length hair.
Comes with an exclusive 3-year warranty
Vellen Hair gladly ships Worldwide! Our Warehouses are located in Australia,United States, China and Germany.
United States: 2 - 5 business days
Europe: 2 - 5 business days
Australia: 2 -5 business days
Worldwide: 4 - 9 business days
All orders are processed within 1 - 2 business days. Orders are not shipped or delivered on weekends or holidays. If we are experiencing a high volume of orders, shipments may be delayed by a few days.
Shipment confirmation & Order tracking
You will receive a Shipment Confirmation email once your order has shipped containing your tracking number(s). The tracking number will be active within 24 hours.
Vellen Hair – the epitome of durability, style, and innovation for hair professionals. Our Ultem-crafted Hair Combs, from hand-drafted coloring foils to precise hair coloring brushes, encapsulate excellence. Our range includes ergonomic round brushes, sturdy hair clips, and practical color bowls - all designed with the modern stylist in mind.
At Vellen Hair, we intertwine longevity and style into your craft. We're committed to enhancing your creativity with high-quality, long-lasting tools that let your artistry shine. Join the Vellen family and feel the difference in your craft.