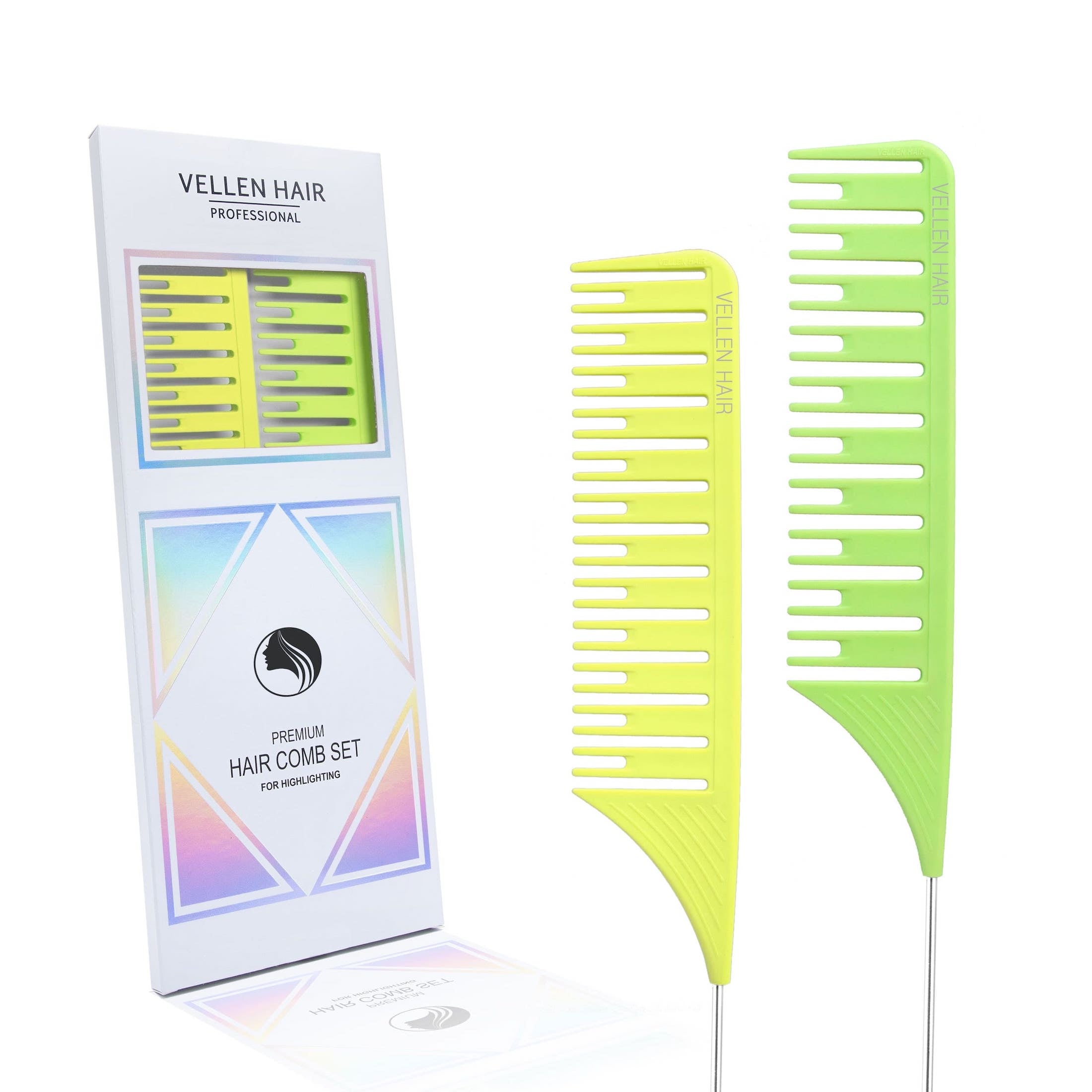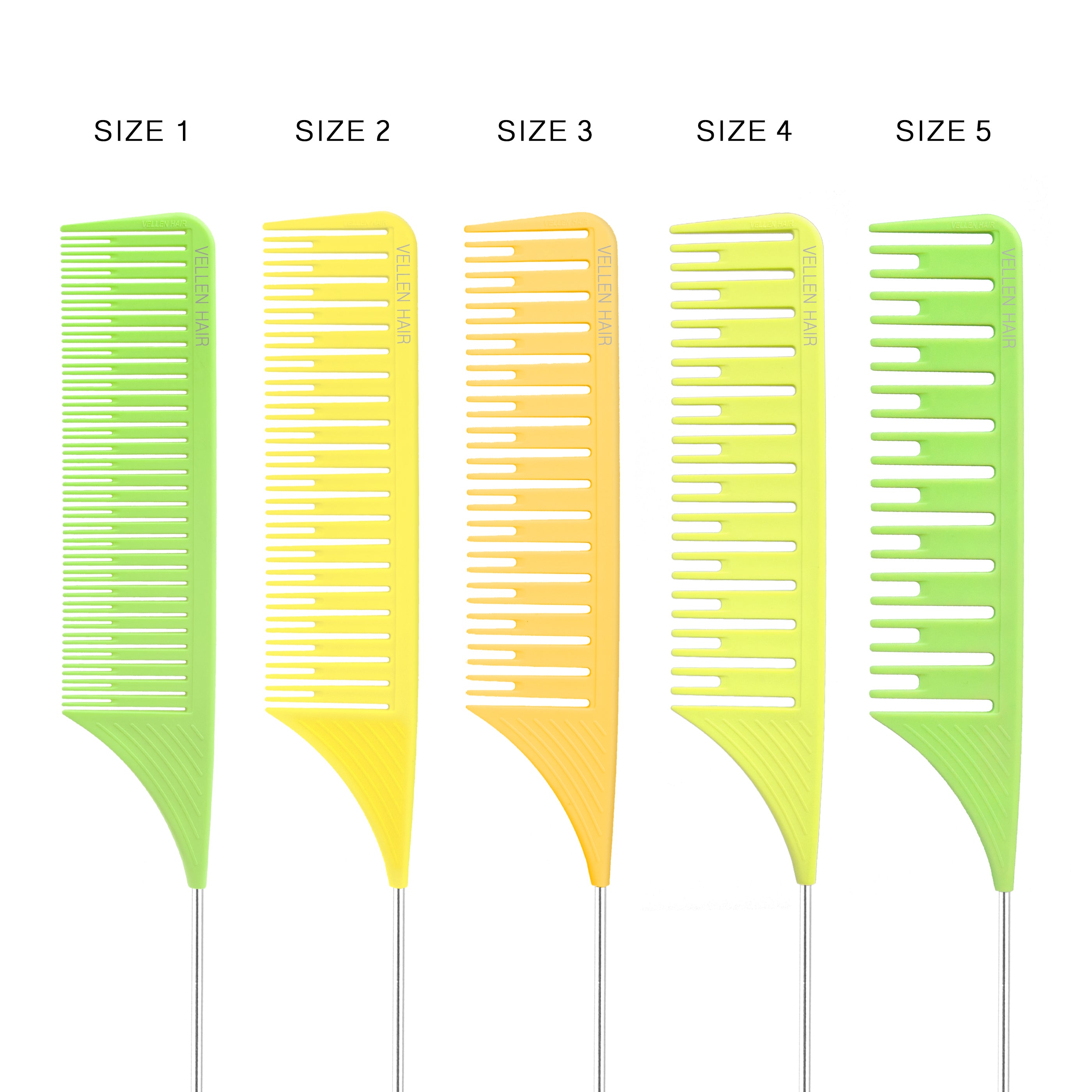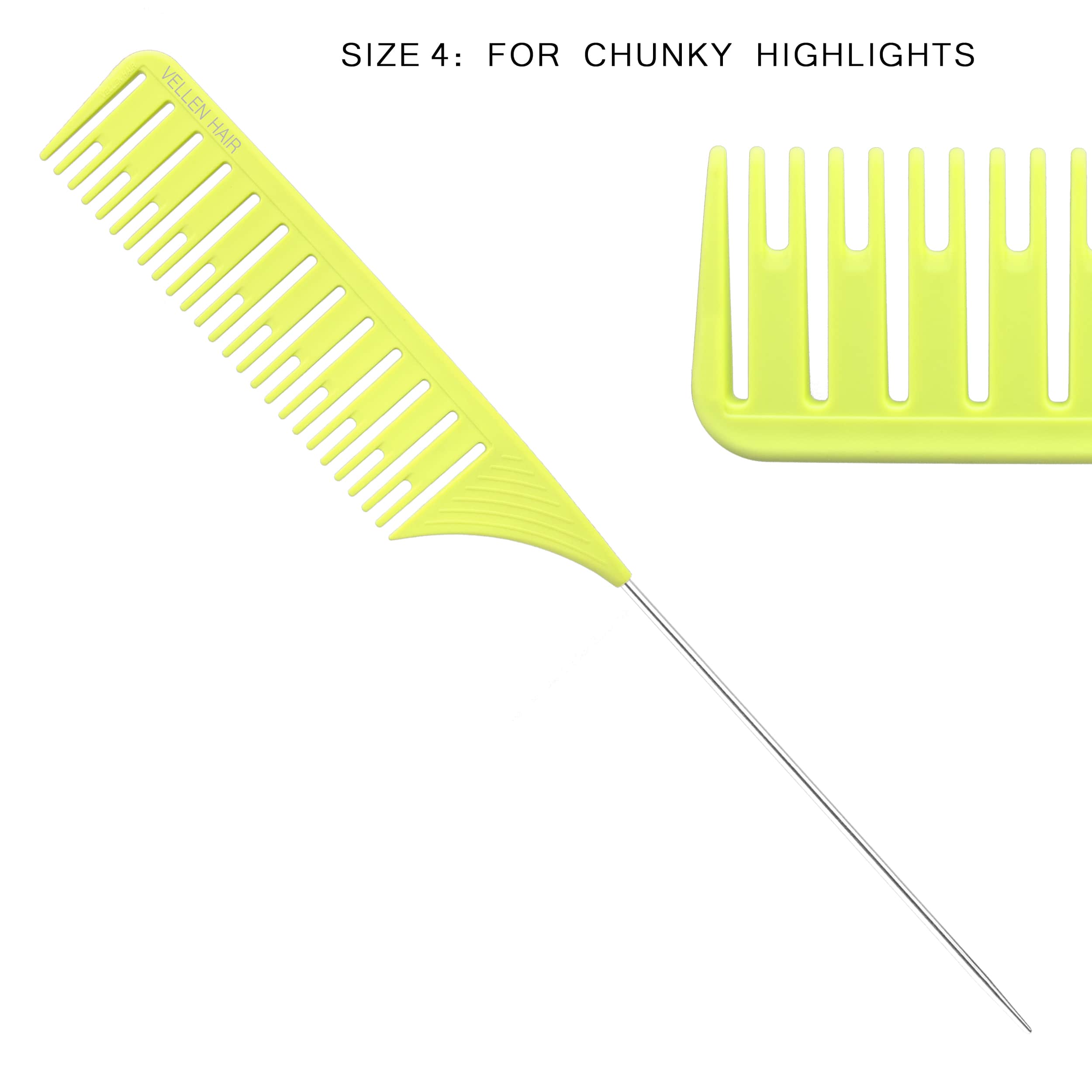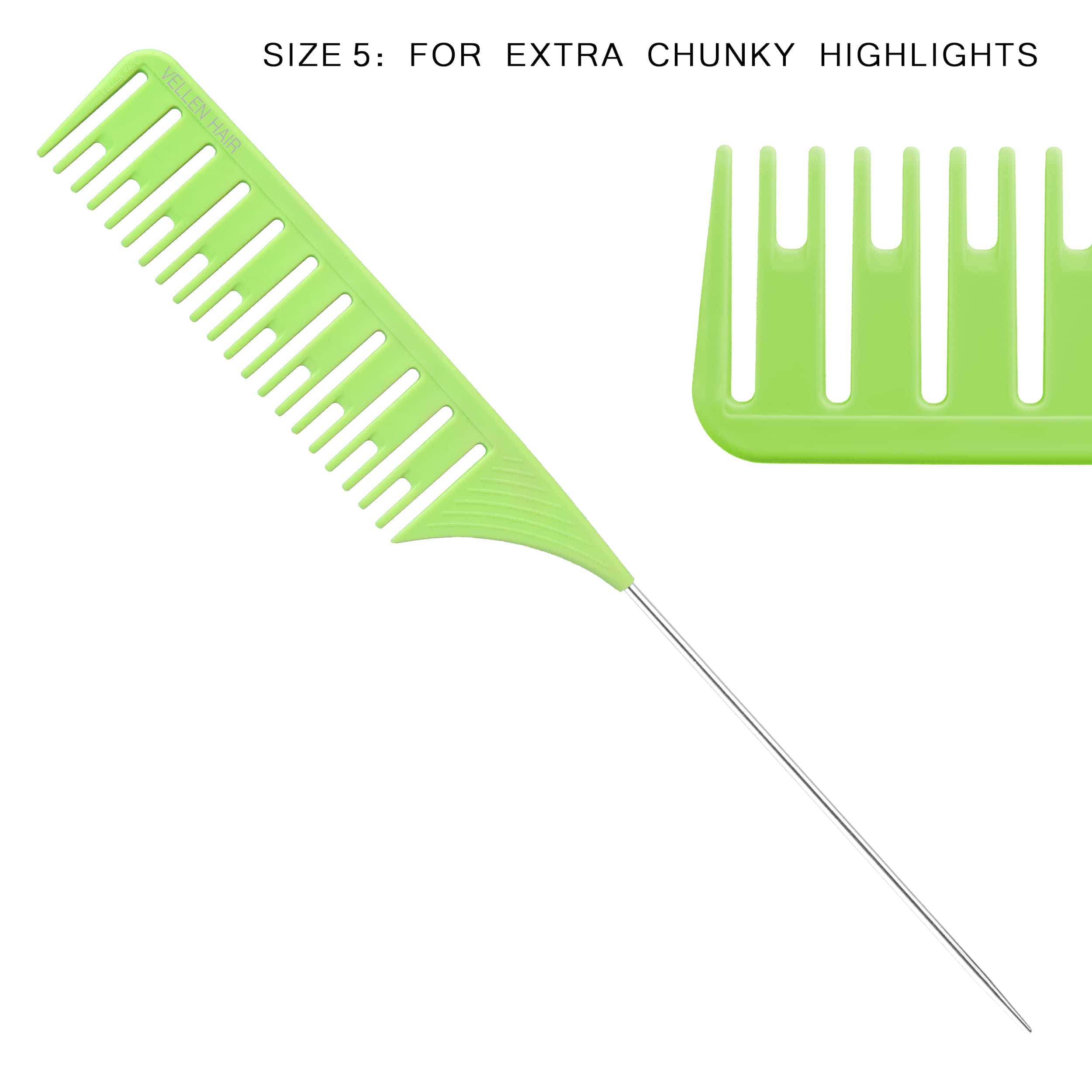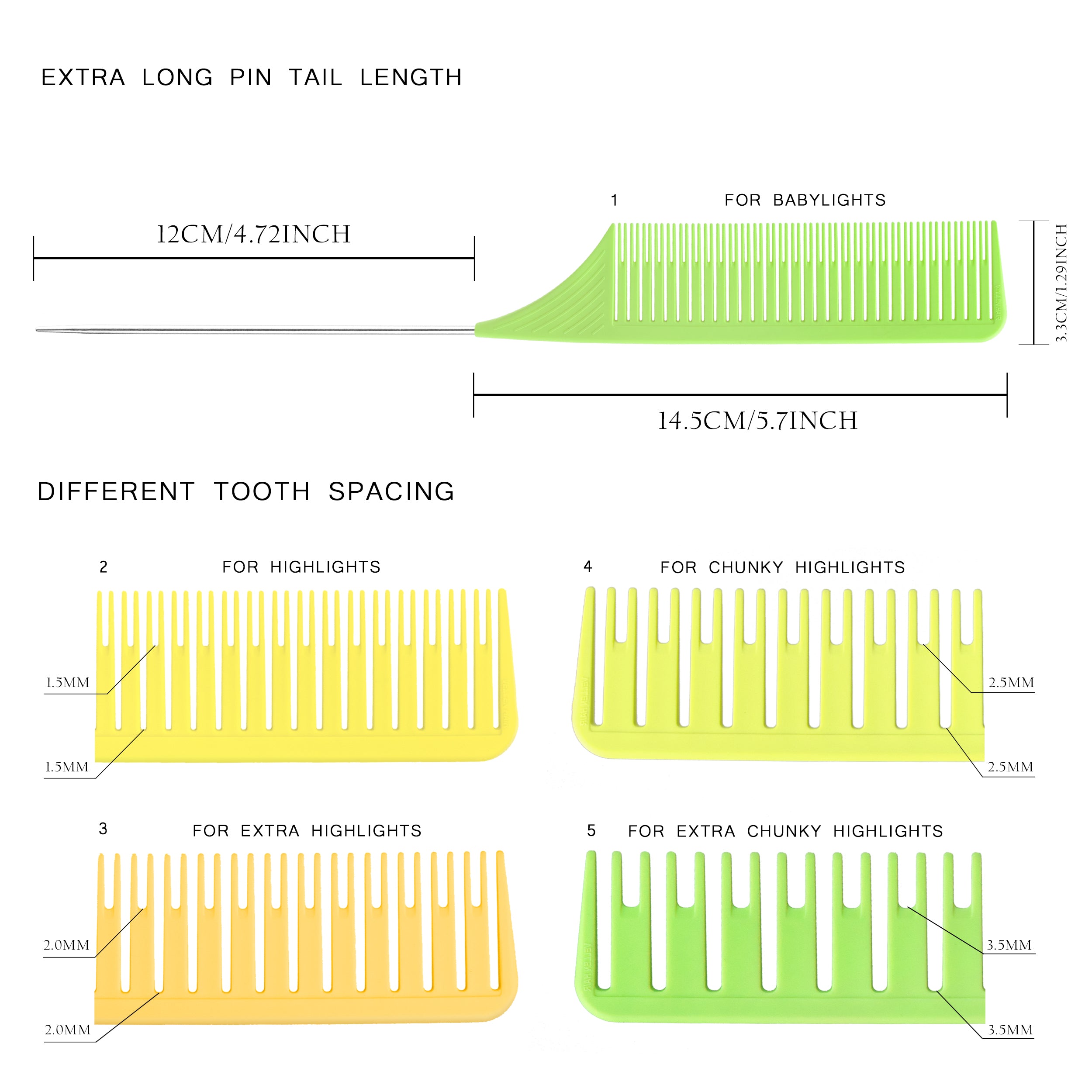 Highlighting Comb Set 1.0 - 2 Sizes - Yellow/Green
Premium Rat Tail Comb Set/  2 Sizes (Size 4 and 5) with Special Design / Perfect for Highlights  and Chunky Highlights/ Extra-long Pin Tail
LIGHT, COMFORTABLE, INNOVATIVE
The patented VELLEN HAIR comb Rat Tail Set reduces your working time by up to 1,5 hours
2 Sizes  (Size 4 and 5) with Special design: Metal pin tail with non-skid paddle. Extra-long stainless steel pin tail. Incredibly lightweight. Comfortable handle slide-proof to hold.
The VELLEN HAIR comb is static free , which helps prevent fly-away and frizzy hair during styling.
It´s an exceptional comb, for creating the perfect line parting. Engineered with gradually decreasing pitch to facilitate even tension on the hair. Easy to rise your hair styling.
VERY EASY TO USE
THE VELLEN COMB WAS DESIGNED FOR QUICK AND COMFORTABLE WORK
REDUCE YOUR WORKING TIME TO 20 MINUTES !
WORK MORE STRESS-FREE AND EFFICIENTLY WITH THE NEW INNOVATION FROM VELLEN AND SAVE TIME AND MONEY!
Vellen Hair gladly ships Worldwide! Our Warehouses are located in Australia,United States, China and Germany.
United States: 2 - 5 business days
Europe: 2 - 5 business days
Australia: 2 -5 business days
Worldwide: 4 - 9 business days
All orders are processed within 1 - 2 business days. Orders are not shipped or delivered on weekends or holidays. If we are experiencing a high volume of orders, shipments may be delayed by a few days.
Shipment confirmation & Order tracking
You will receive a Shipment Confirmation email once your order has shipped containing your tracking number(s). The tracking number will be active within 24 hours.
Vellen Hair – the epitome of durability, style, and innovation for hair professionals. Our Ultem-crafted Hair Combs, from hand-drafted coloring foils to precise hair coloring brushes, encapsulate excellence. Our range includes ergonomic round brushes, sturdy hair clips, and practical color bowls - all designed with the modern stylist in mind.
At Vellen Hair, we intertwine longevity and style into your craft. We're committed to enhancing your creativity with high-quality, long-lasting tools that let your artistry shine. Join the Vellen family and feel the difference in your craft.