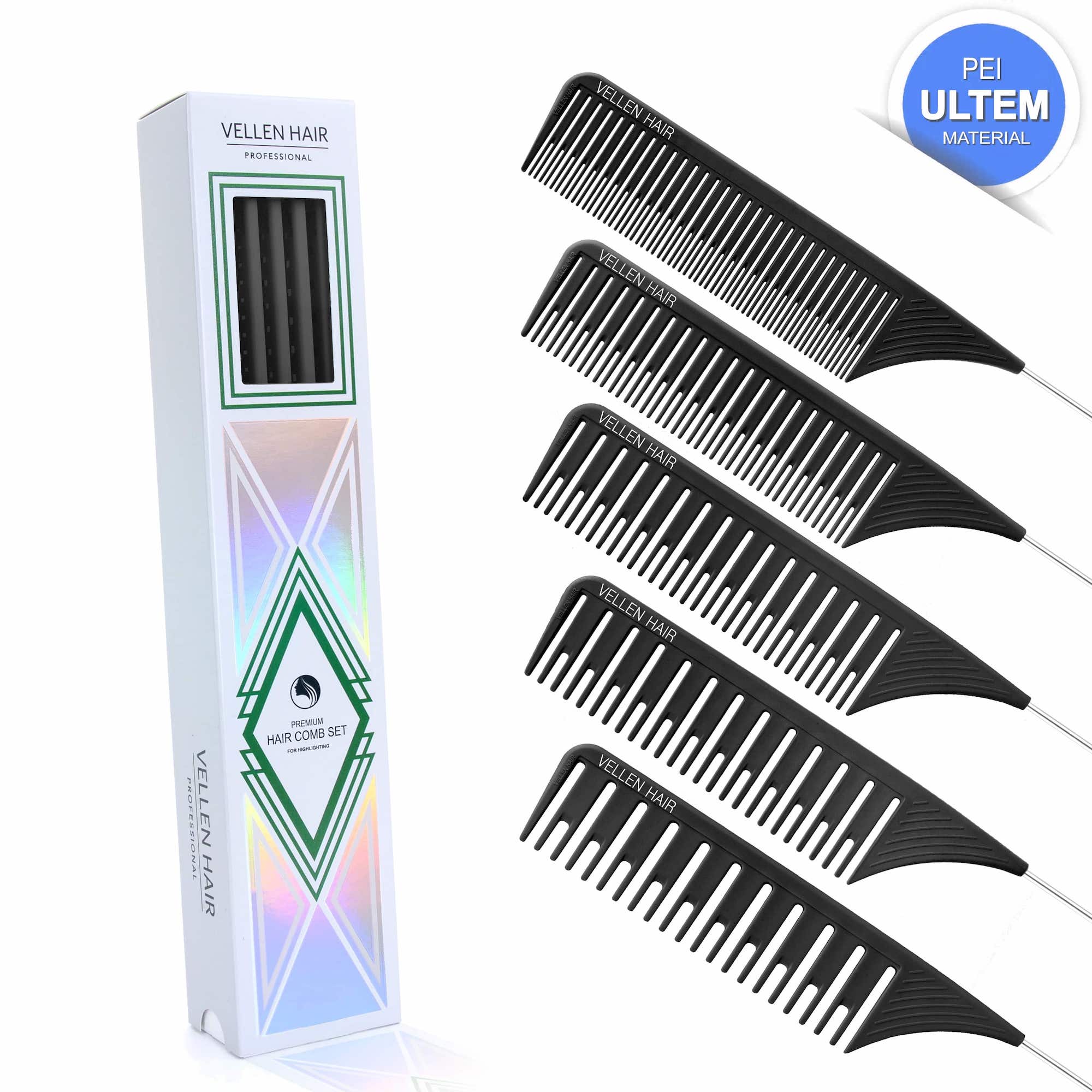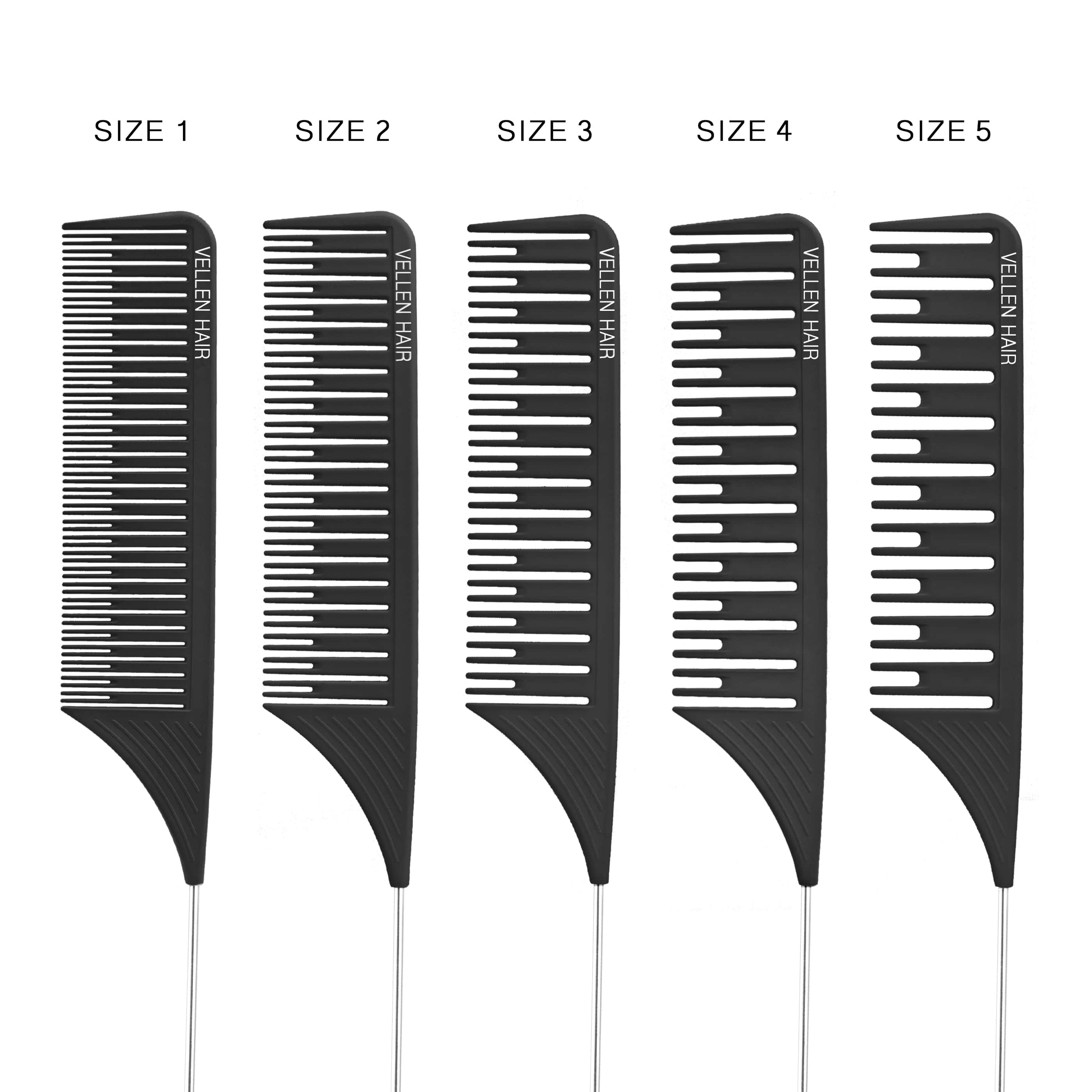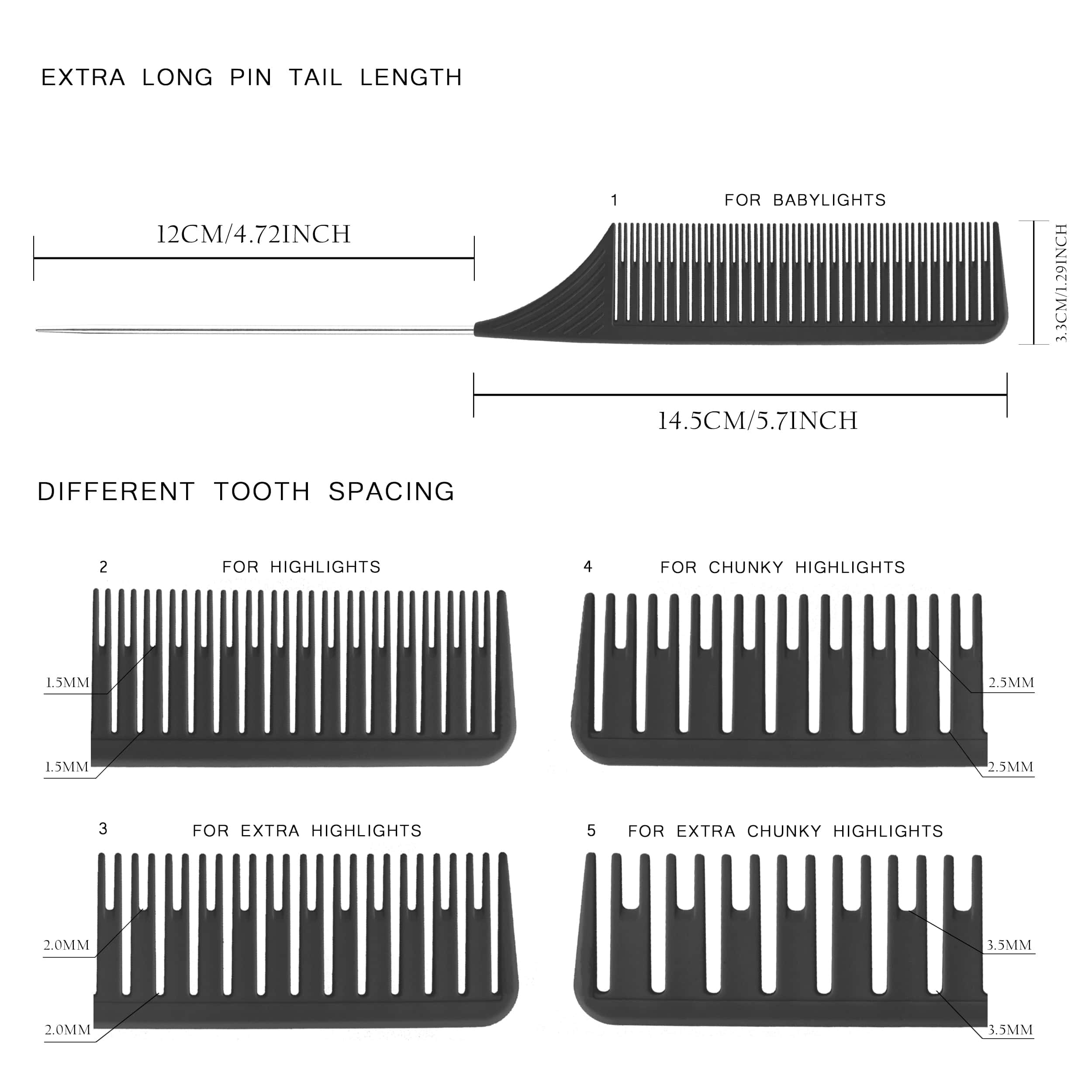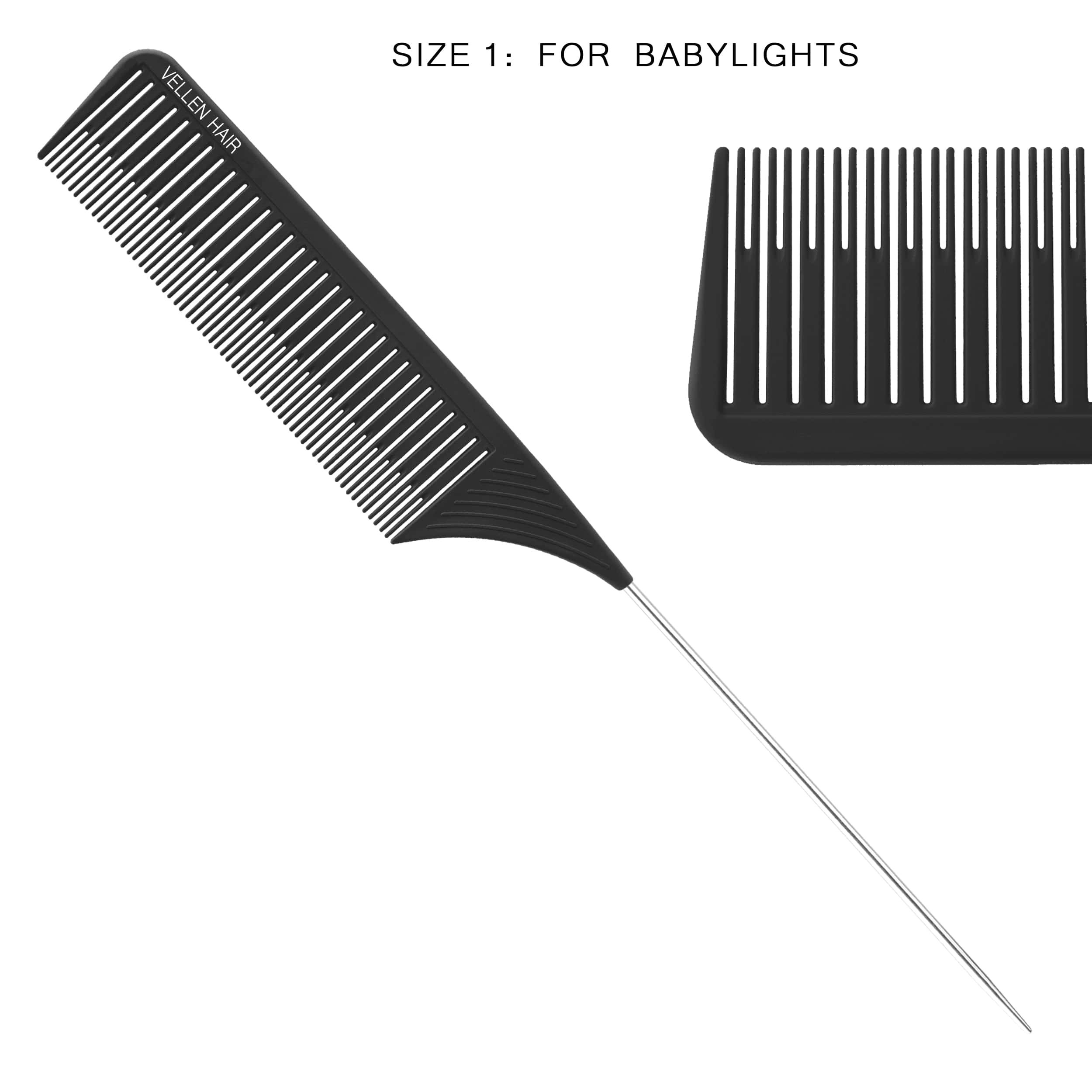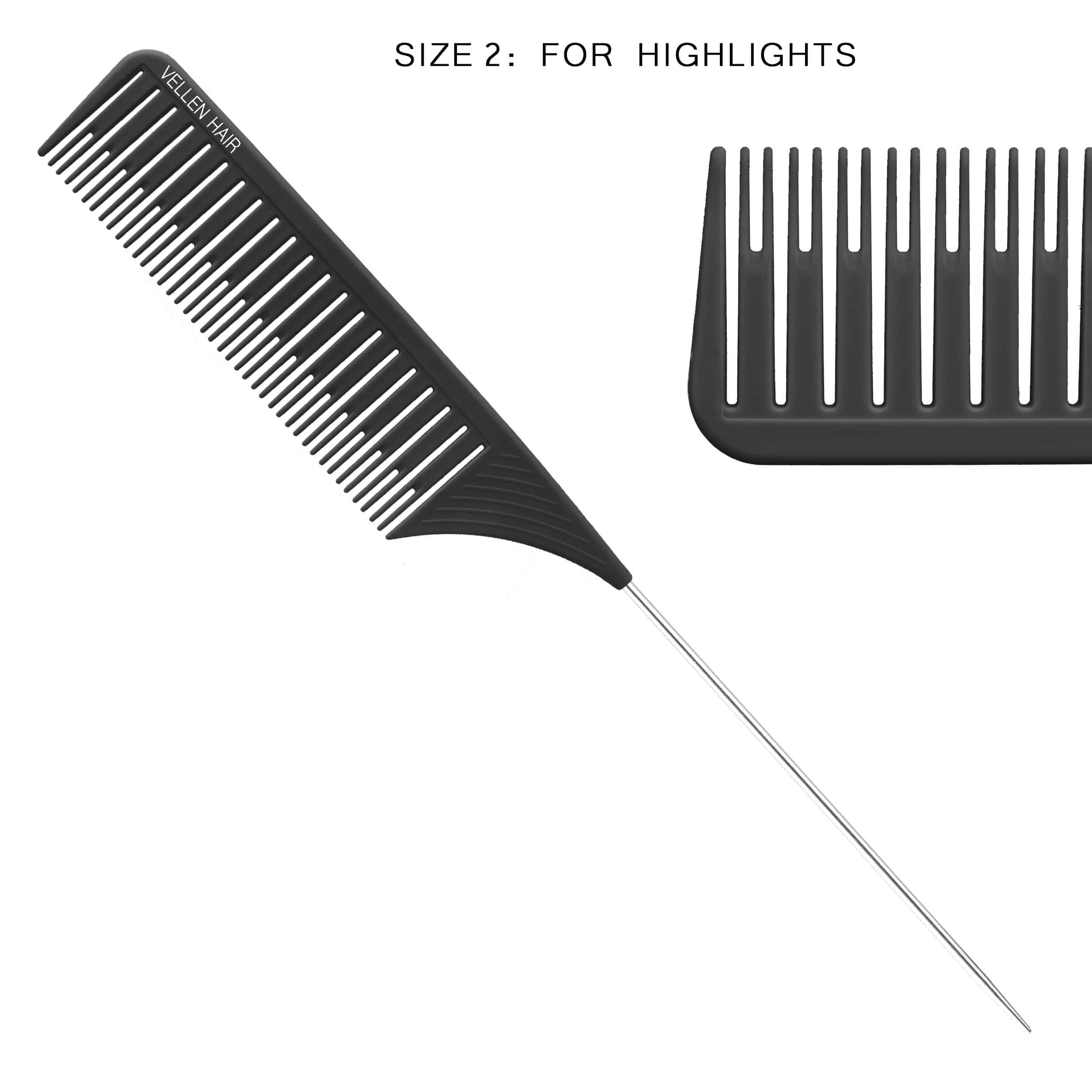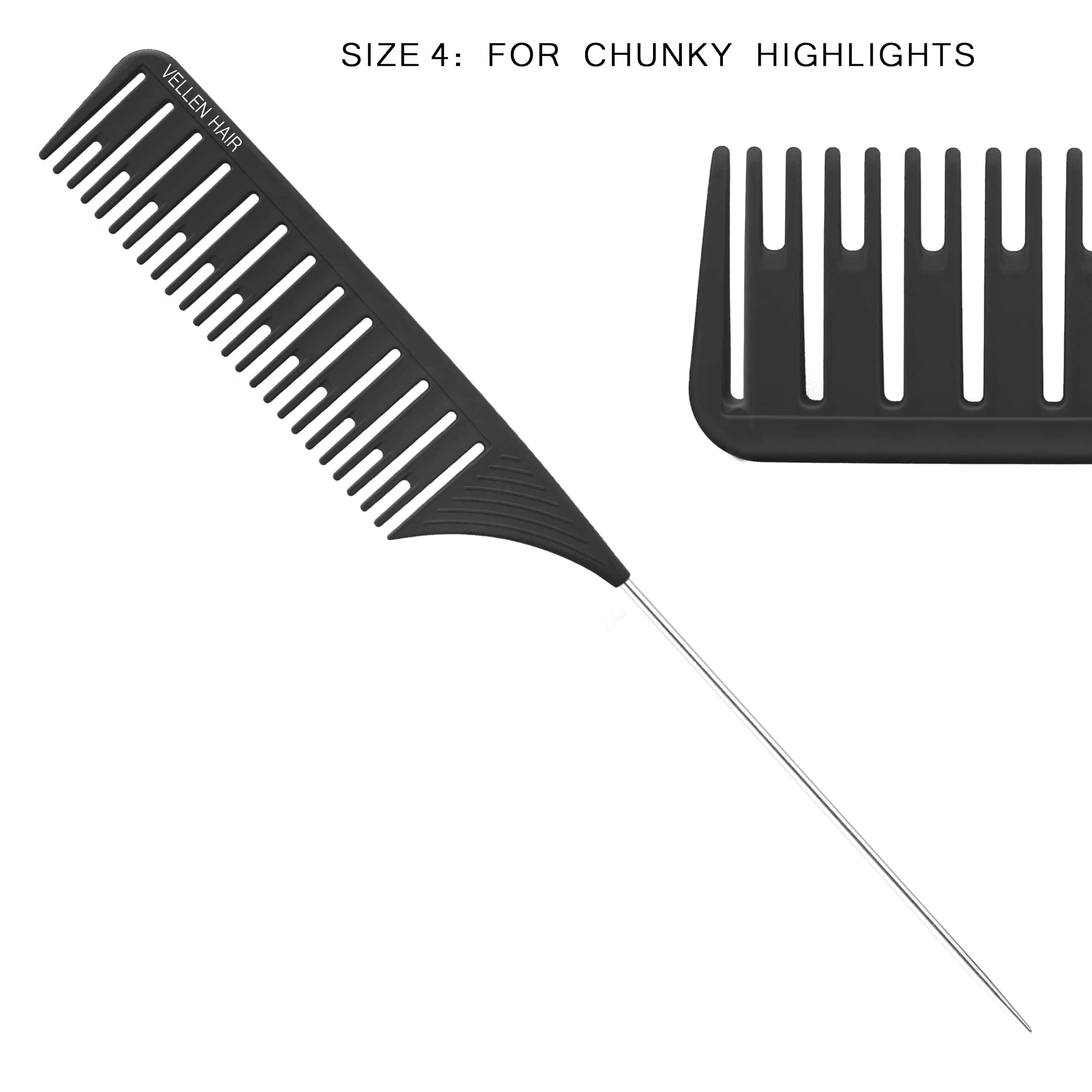 Ultimate Highlighting Comb Set 2.0 - 5 Sizes Black

The patented Vellen Hair Ultimate Highlighting Comb reduces your working time by as much as 1.5 hours!
Comes in 5 sizes with custom tooth spacing and line separation.
Extra-long stainless steel pin tale, lightweight design, and a comfortable handle that's slide-proof to hold.
Static-free ULTEM plastic, which helps to prevent fly-away hairs and frizz during styling.
Engineered with a gradually decreasing pitch, the comb facilitates even tension of the hair and helps to create perfect line parting. 
LIGHT, COMFORTABLE, SUPERIOR QUALITY

The Vellen Hair Highlighting Comb offers one of the lightest, strongest, and most durable combs available to hair professionals. Featuring high-grade ULTEM PEI plastic and a stainless steel pin tale, it's perfect for combing or teasing hair to achieve more volume, finely separating hair during coloring, and post-styling for a fabulous finishing touch. Heat resistant and static-free, the Vellen Hair Waving Comb also comes in five different sizes that provide optimal tooth spacing and line separation. This not only eliminates snagging and pulling but also prevents fly-away hair during the cutting and styling process.
ULTEM Plastic - Superior Quality & Enhanced Protection
The Vellen Hair Rat tail comb is designed with market-leading ULTEM plastic, which is the same high-strength plastic used in aircraft. Offering you more flexibility than carbon, ULTEM PEI plastic provides the very best thermal resistance, strength, stiffness, and broad chemical resistance. 
ULTEM PEI plastic is static-free, which means you limit frizz and protect hair strands from drying out. As a result, hair is less likely to become knotted, damaged, and break apart.
When you compare this to the cheap plastic used in most combs, it's easy to see why ULTEM plastic is trusted by the world's top barbers and stylists.
How To Use:
Step 1: Separate a thin section of hair using the Vellen Hair Ultimate Highlighting Comb. Select thin sections up to 5mm width.
Step 2: Comb through using the fine teeth of the comb.
Step 3: Life and hold the hair, as you keep it firmly taught.
Step 4: Place the comb about an inch from the root and lift upwards through the hair, whilst pulling the remainder of the hair downwards at the same time.
Step 5: Run your finger through the weaves of hair to take them off the comb.
Step 6: Separate the rest of the hair with the tail of the comb.
Vellen Hair gladly ships Worldwide! Our Warehouses are located in Australia,United States, China and Germany.
United States: 2 - 5 business days
Europe: 2 - 5 business days
Australia: 2 -5 business days
Worldwide: 4 - 9 business days
All orders are processed within 1 - 2 business days. Orders are not shipped or delivered on weekends or holidays. If we are experiencing a high volume of orders, shipments may be delayed by a few days.
Shipment confirmation & Order tracking
You will receive a Shipment Confirmation email once your order has shipped containing your tracking number(s). The tracking number will be active within 24 hours.
Vellen Hair – the epitome of durability, style, and innovation for hair professionals. Our Ultem-crafted Hair Combs, from hand-drafted coloring foils to precise hair coloring brushes, encapsulate excellence. Our range includes ergonomic round brushes, sturdy hair clips, and practical color bowls - all designed with the modern stylist in mind.
At Vellen Hair, we intertwine longevity and style into your craft. We're committed to enhancing your creativity with high-quality, long-lasting tools that let your artistry shine. Join the Vellen family and feel the difference in your craft.